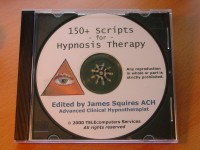 CD-ROM

Instant Download
3-Ring Binder
"Thank you so much! I opened the program and read some of the scripts and inductions. What a treasure trove!" - Davida G.
"Your instant download of scripts has really saved the day... needed one in a hurry and a few minutes later I was all set." - Tom L.
"No more hunting and searching for scripts... thanks." - Jim F.
250+ Hypnotherapy Scripts on CD-ROM - Upgrade
Dr. James Squires, ACH (Editor) / Published February 2005
CD-ROM - Instant Download - 3-ring Binder pages
Now over 100 more reasons to say:
"Perhaps the only book of scripts
you will ever need for your practice!"
This special upgrade version contains the full version of the new 250+ product.

A collection of scripts, inductions, techniques, deepeners, convincers, suggestions, relaxation exercises, script related documents and therapies.
Three formats from which to choose:

On CD-ROM - Our Price: $ 27.95 (+ shipping)

Order now! - Secure online transaction

By Instant Download - Our Price: $ 27.95

( save $$$ - no shipping costs! )

Word file format - opens with Microsoft Word

Order now! - Secure online transaction

Text file format - opens with plain text editors

Order now! - Secure online transaction

3 Ring Binder pages - Our Price: $59.95 (+ shipping)

100+ scripts in page format for your existing Binder

( includes a copy of the upgrade CD-ROM too! )

Order now! - Secure online transaction